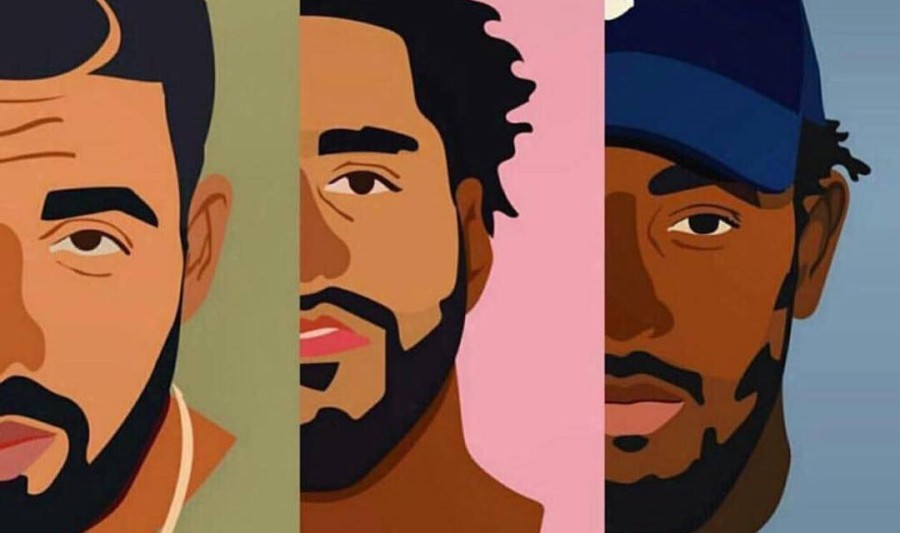 Drake, J. Cole, Kendrick: The Heart, The Mind, The Soul.
Call them the triangle offense because Drake, J Cole and Kendrick Lamar are the 3 most Influential names in Hip Hop today. Yes I said it! H.I.P. H.O.P. meaning, His Infinite Power Helping Oppressed People, word to KRS-One. Today in a pool of new artists and game changers, what makes these 3 so special? What makes you keep these artist in constant rotation on your playlists? Or turn up that volume nob in your car? Simple… They are all very DOPE! Lyrically they are probably the dopest today. But wait, there's more. The real reason why these 3 emcee's can calm your inner savage beast is because of their consciousness and the gift that they all possess to relate to the masses. They are famous versions of you and I. They're our mirrors, regardless of their statuses or bank accounts. Take away the money and fame, Jermaine was the cool a** ball player you hung out with in high school. Lil' Kenny was the Good Kid with the dope haircuts running with the homies. Aubrey was the dude always writing the girls poems and songs. I'm not clowning because I was the very same person. In this new age of Hip Hop, Hip Hop Captain Planet came down and gave 3 rings to his rap planeteers for them to carry the torch. With Drake, he has the power of The Heart in which he masters the ability to move you emotionally. As for J. Cole, he has the power of The Mind which is the ability to make you sit back and think. Lastly to Kendrick Lamar, he represents the power of The Soul. The ability to just make you feel his every word." Allow me to dig deeper into these 3 and their special powers.
Drake: The Heart.
"The girl or the world, you see someone gotta lose. I thought I could have it all, do I really have to choose? What good is all the cash? If it doesn't buy time? And what good being famous, if I'm never on your mind…"
Let me clear the air. I am not talking about Champagne Papi from the 6. I am speaking of Aubrey Graham from Toronto. Drake is a duel threat when it comes to club records and emotional records. As the fame grew for him, he leaned more towards the bravado, but he always stopped to let you know how he felt. Women love Drake because of his honesty and his openness to spill his heart out over beats. He has no fear showing his male vulnerability on tracks where he keeps it real about who he loves or who has hurt him. Personally Drake guided me through many heartbreaks by speaking to me about his own misfortunes. I was "Draking and Driving" long before it became a thing. When you are "Riding through the city, with your hood on and your windows down." He makes you think about the loves you once had. The number of women who have hurt you. When you finally reach success in whatever field of endeavor you're in, you can't help but to feel a sense of revenge and redemption. A lot of men will call him a "lame" or a "simp" because of this, but truth be told, we all have experienced those same feelings. I don't care how many females you have now, or how hard you may think you are,  Drake before the fame, and the "Mixtape Drake" was the purest with his emotions. On songs like Deceiving, Sooner than Later,  Stunt On You and Something, he showed his pain and let the pain leak from his ventricle. He also rapped about wanting to achieve his dreams, his determination to make it and he expressed a certain level of morality that had been absent in rap music.
"N***** would trade they soul, to be Drake or J. Cole…" –The Game
He puts a face to those he has feelings for, so much that you can probably Google these women. I'm not just talking about his famous crushes like the Skylar Diggins's and the Jennifer Lawrence's of the world.  I am talking about Courtney from hooters on Peachtree. Paris Morton, Porsha who worked at Treasures, Bria's Interlude. These are real people. He gives us his whole love story and everything he has been through to show it's real. Before the bottles and models, this man was looking for love. He still is. How many of us listened to "Shot for me" when we saw an ex make the wrong decision? Or how about replacing Alicia and Katia's names with our own former lovers? I have. "Marvin's Room" is a hater song. But it is the truth. Someone we love hooks up with another person, but we hate on the new person over the phone in attempt to persuade him or her to come back, and telling them you are better for them. These feelings are real life. These situations have happened to all of us. So for those who are calling Drake a punk, why? Is it because he is man enough to admit his faults, feelings and pain? To me that is relatable. Plus to woman it makes him that much more irresistible. He can make hits left and right, but his records soaked in feeling and emotion are the ones that he touches the hearts of the people with the most. For that Drake is the HEART of Hip Hop.
J. Cole: The Mind
"Until the next time, I love diving in your mind. And coming out with every diamond I can find."
J. Cole has an intelligent mind. Not only as a lyricist, but also a producer. He is a musician and he has a college degree. How many of us can relate? Cole knows he is just like the average person, that's why he has no problem navigating us through the Ville. He is a mirror to guys like myself as well. That young basketball player, eating his school lunch while the other kids had real meals. The kid who chose to stay out the streets and further his education. He shows his views on the world and he delivers them in a way only he can.  He is socially conscious and has an understanding of his community. He speaks to cats still in the hood, and those that made it out. To put it simple, J Cole speaks the language that so many of us speak. Whether it's visiting Ferguson, and the very spot where Michael Brown was struck down or buying his childhood home and using it to house single parent mothers and their children. He pulls a sense of honesty and humility out of you by showcasing his very own.  Cole went against the very procedure of releasing an album, when he dropped the gem "2014 Forrest Hills Drive" with no lead off singles. He also makes us realize how our culture is obsessive with material things.  The song "Chaining Day" shows how we place so much of ourselves into how we look as opposed to saving or using our money for a better purpose. Like Chris Rock expressed, white people get money and use it to create more money whereas black people get money and use it on rims and other liabilities. Hip Hop mogul, Damon Dash was told that Jewish people call us "liquid money" because we as soon as we get it we spend it. Cole tries to express this to us. We want others to like us because of what we obtained, what we look like instead of whom we are. We are willing to spend our last for such a foolish, and temporary status. That very chain is not much different from the ones our ancestors were forced to wear for so many years.
Young Simba shows us we can do more and he shows us how crooked our world is. On songs like Crooked Smile, Cole delivers bars showing our women that God's makeup is better than anything man made. Those imperfections are not faults, in fact they are uniquely given to you, to set you apart from others. His crooked smile is symbolic to that. He dares you to brain storm and he dares you to dream. J Cole has said himself that he has battled with his own fame versus his humility. "Am I about dollars or about change? Am I about knowledge or about brain?" He lets us know the love from those around you is more than any fame or fortune. The beauty of the struggle and the ugliness of success. Of course your own life is unique and happiness is the real currency. No matter your status, we are fans because we understand this. For this J Cole is the MIND of Hip Hop.
Kendrick Lamar: The Soul
"When the whole world sees you as Pac reincarnated"
How can you not feel the soul of Kendrick Lamar? Regardless of doubters and naysayers, To Pimp a Butterfly breathes life into our culture. He picked the brain of the original soul of Hip Hop on his pieced together interview of Tupac Shakur. Kendrick is honest enough to give you every bit of his energy and soul in each song for us to feel him. He even has attacked himself to show his own vulnerability. On the track U, on TPAB, he scolds himself about his past decisions and self-inflicted pain. What's special is that in the turn of a dime he can encourage us to love ourselves. I first hand was saved by his work. He helped me break myself down to the point I had no choice to work my way up. Kdot helped me my find my own soul and who I was as I climbed from my own dark abyss.  Similar to J Cole, the "Good Kid" from Compton expresses his frustration on the injustices we face as a culture but he also is not afraid to show that as much as we ridicule those who hurt us, we need to also look at ourselves in the mirror as well. Being from Compton he knows how black lives have been under attack not just because of the guys with badges but also because of the people in red and blue.
"The Difference between the pretenders and the Kendrick Lamars." –J. Cole
He is the turn up of the soul, his words speak volumes to those who understand truly. Think about it? Who has left you in your time of need? How many of us have lost friends in our darkest times? When you tell them something they don't want to hear? You find out who loves you for real and who was there when for their own benefit. "When Sh*t hits the fan are you still a fan?" Kendrick Lamar is here to deliver the message we need to hear,whether we want to listen to it or not. We should relate to his messages because we live them every day. It is bigger than Compton, it's bigger than your city or state. The message reaches other countries and other genres, so it should never miss us. His last CD made me LOVE me for me, and it made me take notice to humanity around me. Ironically outside of a Kendrick Lamar concert I seen a homeless man and without hesitation I gave him all the single bills and change that I had in my pocket. It may not have insured me a spot in Heaven but, I seen the eyes of God in that man's face as he smiled at me. Kendrick intentionally produced small venue concerts with his last tour, that featured ticket prices for those who couldn't afford the prices of an ordinary big star. He knows his album is different and not meant to be pimped. That is why he plans to retire the album after his tour. To Pimp A Butterfly had a purpose, to enlighten and inspire. You can't pimp that. Kendrick is the truth we have been waiting for. But he is still a fun loving guy that can show us his humor. He hit the Quan in the "These Walls" video and dabbed at a wedding that he and his boys crashed. We relate to his struggles, we relate to his messages. For this  Kendrick Lamar is the SOUL of Hip Hop.