The time has finally come and we are down to the final four teams standing in the 2018 NBA Playoffs. The stage is set for a Mother's Day special, as the Eastern Conference Finals kicks off tomorrow, May 13, 2018 between the Boston Celtics and Cleveland Cavaliers. Though both teams were many folk's picks to meet in this matchup, things seemed shaky to develop in such a way for both teams at different points of the year.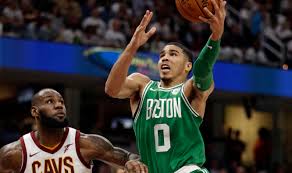 The Boston Celtics lost an intricate part of their team in game 1 of the season against Cleveland when All Star forward, Gordon Hayward broke his leg in gruesome fashion, which ended his entire season. If that was not enough horrible luck for the Celtics struck again  when it was announced just weeks before the launch of the playoffs, that their leader, All Star guard, Kyrie Irving would be undergoing season ending knee surgery due to an infection setting into his already surgically repaired left knee. Once that happened, 98% of the basketball world, including Boston fans assumed that the Celtics were finished but to our surprise they have not lost a foot. The well coached bunch, displayed a "next man up" mentality to the highest extent when they ran through the Bucks and 76'ers in underdog but dominant fashion. They got big time play from third year guard, Terry Rozier, veteran, Al Horford, Rookie, Jayson Tatum and second year wingman, Jaylen Brown. They enter the East Finals with home court advantage, as a two seed but they are not the favorites to win against a seasoned, Cavalier nucleus.
The Cleveland Cavaliers and LeBron James are no stranger to the Eastern Conference finals as they've been crowned Champs of the East for three straight years. Though they surrendered their disgruntled all star, Kyrie Irving to conference foe the Boston Celtics, many still believed that Cleveland will be right where they are today. After a 4-10 stretch following a Christmas loss to the Golden State Warriors, the team continued to have multiple off and on losing streaks before it became to appear that the team was heading into a spiral direction. It was then that first year General Manager, Kolby Altman decided to shake up the entire team in dramatic fashion on the day of the trade deadline. He traded away six players and a draft pick, and received four new players in exchange. As the oldest team in the NBA, the Cavs got younger and most of all, they got a new zest for life and it showed early in their first few games together.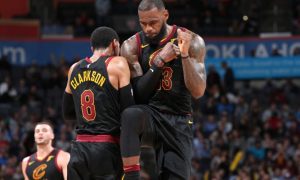 As Cleveland tried to figure things out while shuffling players in and out of the rotation due to health and fit, they finished as the fourth seed. Unlike Boston, the Cavs had a bit of a struggle in their first round series. The Indiana Pacers forced the Cavs to a game 7 in a hard fought series that proved to be excellent preparation for the second round matchup against the one seed, Toronto Raptors. In regular routine, the Cavaliers got rid of them via a sweep. Cleveland now enters this year's Eastern Conference Finals again as a favorite but, this year's Brad Stevens team is nothing to take lightly, as they never are.
Boston Celtics keys to Victory
"Well I think they are one of the most well-coached teams in our league," James said. "Obviously, you know what I've said about Brad Stevens before and his ability to get the most out of his guys, how great they are out of timeouts, late-clock situations as well no matter who is on the floor or no matter who has played for them, he can put guys in position to succeed and get the most out of whoever has been in their lineup over the past few years, it's not just this year. ~ LeBron James
Boston is one of the best coached teams and they play with and for each other.There is no head of the snake, as they utilize a team oriented offense based not on isolation but ball movement. Any given game it can be another leading scorer for them. Guard, Terry Rozier leads the offense, as he's caught a lot of eyes with his 18, 5 and 5 play this post season. Boston is as well assembled as any team in the NBA, as their entire starting five is former top 20 picks, and into their bench with, Marcus Morris who claims himself and Kawhi Leonard to be the best defenders against LeBron James.
The keys for Boston will be out coaching the opposition, throwing different bodies at LeBron to make it difficult for him and taking away some of Cleveland's strengths. They bosted the league's best defensive deficiency rating during the regular season and their length on the perimeter coupled with their size in the middle makes them a well balanced defensive team. On the offensive side of the ball, Jaylen Brown and Jayson Tatum should look to keep LeBron honest defensively. Tatum averaged 23 ppg in the semifinals against Philadelphia and shot the ball with an unusual efficient clip of 53%.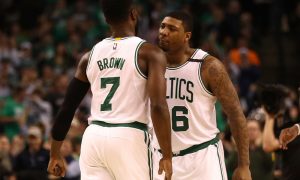 Though regarded as a surprise or prematurely present in the conference finals this year, the Celtics are a real threat against the Cleveland Cavaliers. They are young, fearless and playing with house money this year. If Boston can play a nice floor game, beat Cleveland on the glass, not let LeBron get contribution from the others then they give themselves a pretty good chance to shock the world in upset fashion. Will Boston be able to protect homecourt may be a deciding factor in this series. They have knocked off three phenoms in the first two rounds of the 2018 playoffs against Giannis Antetokounmpo, Ben Simmons and Joel Embiid. How they can fare against the battle tested, real deal in LeBron James remains to be seen.
X-Factor- Marcus Smart
Cleveland Cavaliers Keys to Victory
"Physically, he is more superior than any guy that is on the floor. He's 260-plus pounds. Can run like a gazelle. Athletic. He's physical. He's just unstoppable. We gotta be mentally locked in and have a mindset to try and do the best we can."~ Jaylen Brown
The Cavaliers have been here in the conference finals time and time before, particularily against Boston where they have eliminated the Celtics in two straight season and gone 8-1 in those games. Though this is the first sniff of the post season for newbies, Larry Nance, Rodney Hood and Jordan Clarkson, the core unit is quite familiar. Kevin Love, Tristan Thompson, JR Smith and LeBron James have championship pedigree. Aside from Cleveland having the best player in the world on their side, they pose fatal threats on the outside from multiple weapons. Kevin Love found his all star play in round two and Kyle Korver is having an amazing post season, shooting a league high 46% from three. However the difference maker as usual is LeBron James. He leads the playoffs in minutes played, free throws made and attempted, field goals made and attempted and points scored. Needless to say he also leads in PER at 35.4. The key will not be his scoring but how he will respond being attacked defensively if he is matched up against Jaylen Brown or Jayson Tatum. At age 33 his defense has regressed as he admittedly looks for pockets to preserve energy throughout the flow of the game, which unfortunately happens often on the defensive end of the floor. LeBron will likely be himself but the Cavs cannot afford another series that requires him to average 40 points in wins.
Cleveland must have contribution from guys not named LeBron James. If Cleveland can force turnovers to get into transition and if they can get hot from the outside, which they are more than capable of, then Cleveland will be tough to beat. Coming off a superb offensive showing against Toronto, where they got anything that they wanted, things will not come as easy against the better defensive team in Boston. Cleveland has the worse defensive rating among remaining playoff teams and if not fixed, a Boston upset should not be a surprise. Cleveland has the edge with LeBron James but to win this series it will take a team effort from either side.
 X-Factor- Kevin Love
TayJordan's Prediction- Cavs in 5