Yep, the boy John Wall no longer has to go sneaker less with his own shoe. After playing without a shoe contract for the past two seasons, Wall has agreed in principal for undisclosed terms to resign with Adidas.
In a James Harden and Damian Lillard basketball division for Adidas, Wall will reportedly be the headline athlete for several of the company's new modernized lifestyle basketball silhouettes.
This is not John's first deal with Adidas. His first sneaker deal was with Reebok, following him being selected number 1 in the 2010 NBA Draft. After Reebok's abrupt forfeiture in the basketball sneaker business, Wall's contract was then transferred to Reebok's parent company, Adidas in 2013. Wall left Adidas in 2015 after declining a 8 year 66 million dollar extension with the brand.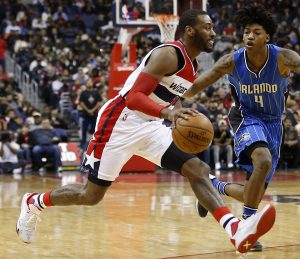 If there existed any bad blood following the break up, both Adidas and Wall appear to now be looking forward to having a fresh slate.
"The people that were there when i was there are not there anymore. It's a whole new start. … I go to a new school, get a new principal. I might not like the old principal, but the new principal might be cool. So these guys might end up being cool.~ jOHN WALL
After wearing various sneakers the past two seasons with no deal in place, Adidas was aggressive with not losing another star to Nike, as they actively pursued Wall's representatives to get a deal in place.
"It is a fresh start for both of us. We're both excited, happy, and we'll see where this takes us." ~John wall
Much respect to John Wall and his new shoe deal. It is well deserved. Hopefully this time around the designs are better.
Black Sports News
Black sports online magazine
~TayJordan
What are your thoughts? Are you excited for Wall's new Adidas sneakers?