The dog has been let out of the gate, and he's out for food. If Kobe Bryant was Mamba, then we all have to think off a vicious name for the beast of a point guard, in Oklahoma City. Russell Westbrook is on an amazing early pace to being named the 2016-2017 NBA MVP, winner by a landslide. His domination is nothing more than a typical day at the office for him, as he has earned six straight triple doubles, for a total of 11 just 22 games into the season. In historic fashion, he is on an impressive triple double streak that has not been witnessed since Michael Jordan went for 5 straight during the 1989 season. Russ and his Thunder, 14-8, host James Harden and the Houston Rockets, 15-7 tonight, as he will be going for 7 straight. He is the first person averaging a triple double, since Oscar Robinson did it when teams averaged more possessions than today's game, during the 1961-62 season. As impressive as Westbrook has been he is still no stranger to criticism, but I will go out on a limb to suggest that Westbrook is and has always been much better than what media, fans and critics have ever given him credit for.
Sleeper talent:
Russell Westbrook was not a big time recruit. He did not play varsity basketball until age 17. He grew 5 inches heading into his final high school basketball season, where he averaged 25 points, 8 rebounds and 3 steals. He appeared on no ESPN Top 100 list, nor did he land many big time scholarship offers. As a 3-star recruit in 2006, he committed to playing for the UCLA Bruins. Past UCLA, the next best offers were Arizona State, Boston College, Kent State and Creighton. UCLA's then Assistant Coach, Kerry Keating was very high on Westbrook, as he recognized his motor, and high potential.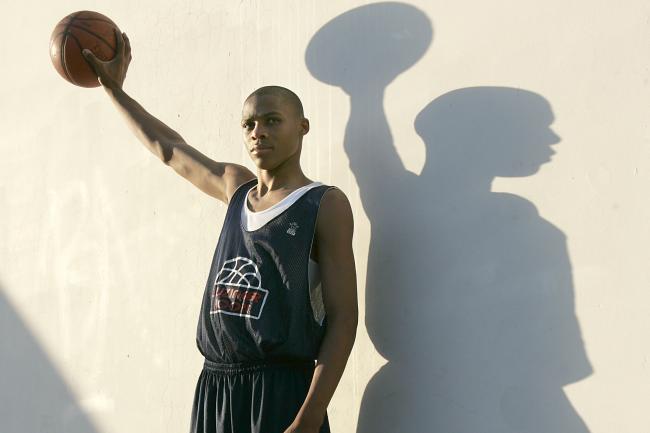 Reportedly, it was a good chance Russ could have landed at ASU, where his eventual Thunder teammate, James Harden entered in 2007. That all changed when UCLA, Guard, Jordan Farmer made the lone scholarship available by opting to declare for the NBA draft. Westbrook joined the Bruins in fall of 2006 where he played behind Darren Collison. His freshman year he struggled with pace, which left him only seeing the court for 9 minutes a game. With Aaron Affalo and Darren Collison turning pro, that left Westbrook pairing with then Freshman, Kevin Love for his sophomore season. Westbrook went on to make strides as a guard, by shining brightly defensively, as he was named the 2008 Pac-10 Defensive player of the year. With a stat line of 12 ppg and 4 apg, he was not that high on many draft boards after declaring for the 2008 NBA draft. In fact, then Head Coach of the Seatle Supersonics, PJ Carlisimo was sold on selecting big man, Brook Lopez with the team's 4th pick. Sonic guard, Earl Watson who had seen the young Westbrook play during the previous summer ,advocated to management that the kid from Compton Avenue was surely the guy that the team should select. Westbrook worked out for the Supersonics (now Thunder) and they later made him the #4 pick in the 2008 NBA draft. The pick surprised many, as the word on the street was that the was very raw, and not a "true point guard." Thunder, General Manager, Sam Presti saw past the scouting report.
The Skinny:
Russel Westbrook, at 6'3, 200 lbs, is a well put together guard. With his scoring nature, he is not what many regard as a "traditional point guard." Though a very capable and willing passer, as evidenced by his 11 assist average this season, Russ Westbrook is more hybrid than pure point. Where former MVP, Derrick Rose was praised for his explosiveness and shoot first mentality, Russell Westbrook has always been critiqued. He's been top 10 in assists for the past  three season's but that has not stopped many from calling him a guard that "shoots too much." He continues to be labeled as "erratic," and "out of control." For the first 8 years of his career he was encouraged to play Tito, to Kevin Durant's alleged Michael Jackson. Early on it was clear to a limited few that Westbrook being secondary option to anyone's primary option was not too becoming of him no matter his position. In all honesty, his talent, athletic ability and motor was much bigger than being limited to an option B or just a distributor. Not many basketball fans felt that way.
"He moved at warp speed. It was the only speed he had."~ Ben Howland, former UCLA Men's Basketball Head Coach
Coexisting with Durant:
We all should be aware of the duo controversy dating back to Penny/Shaq, Marbury/Garnett, and Kobe/Shaq. Durant/Westbrook was no different. At first the alleged strain appeared to be more of a made up tale by the media than anything, or so we thought. Being, that Durant opted to leave during the summer of 2016, many now question if it was actually some validity to those stories. The two main pieces of Kevin Durant and Russell Westbrook maybe was not the best fitting for chemistry, as Russ never turned into the guard with grace that many suggested that he should become. Instead, he was the guard that led all players in transition points during the 2015-2016 season, while still averaging 10 assists per game. Even, with Russ' scoring mentality he and Durant amazingly made it work pretty well. That is not including a championship of course, and disappointedly including a Western Conference Finals loss where the Thunder were up 3-1 against Durant's, new teammates. No shade. Between Westbrook and Durant there are 12 All-Star appearances; three All-Star Game MVPs; one regular-season MVP; 35 player of the week awards; 18 player of the month honors; nine All-NBA teams; five scoring titles; four Western Conference Finals appearances and one Finals appearance. During the 2014-2015 NBA season they were the highest scoring duo in the league at 51 points per contest. After Durant's 2013 MVP season, the tides began to turn in the following season as Kevin Durant only appeared in 27 games that year due to injury. In short, OKC's true alpha was revealed as Russell Westbrook shined even brighter in Durant's absence. In the pair's final two seasons together Westbrook finished ahead of Durant in MVP voting.
Turnover and Passing Criticism:
Russell Westbrook has been top 5 in assists for the past three NBA seasons but make no mistake about it, he is not Chris Paul. He is not Rajon Rondo. He is not Jason Kidd. He is not even Steve Nash, or any "pass first type of guard." He is the Thunder's primary ball handler, which makes it not too unrealistic that he would average more turnovers than most. In this short season, Russ is averaging a high, 5 turnovers per game, while still maintaining a lower assist to turnover ratio than the highly praised, Stephen Curry. As quiet as it is kept, the great LeBron James is even averaging a career high 4 turnovers a game, as he is the primary ball handler for the defending Champion, Cleveland Cavaliers. Though mass media makes Westbrook's turnovers quite a storyline, what is never mentioned is that he has the highest Assists Per 48 Minute average at 15.2. That's better than every "traditional point guard" or any player in the entire league, for that matter. At 11 assists per game this season, that makes him second in dishing out dimes. I MUST reiterate that he is SECOND in assists. Yes, that means that he is assisting on more points than that of the highly admired, Chris Paul, Kyle Lowry, John Wall or (insert guard name here), including that unanimous MVP guy.
Could Russell Westbrook average a season-long triple double?

LeBron says the Thunder star is like "the energizer bunny." pic.twitter.com/4XHhs8AcoJ

— FOX Sports Ohio (@FOXSportsOH) December 7, 2016
Too Much Shooting Criticism:
If you watch basketball at all, you've probably heard plenty of times about how Russell Westbrook shoots entirely "too much." Players like Kobe went through this criticism, so did Carmelo Anthony and Allen Iverson. Oddly enough, none of those players has ever averaged more than 7 assists in their entire careers. In contrast Westbrook has averaged 7 or more assists for six of the 8 seasons in his short career.
"Yeah that's true but those guys aren't point guards."
I am happy you brought that up, as that was my next point. The likes of Kyrie Irving, Stephen Curry, Damian Lillard, Kemba Walker, or Mike Conley has all NEVER averaged double digit assists in their careers and they are all obviously point guards. Westbrook averages 24 Field Goals a game and connects on 42% of those attempts. With the departure of Kevin Durant, as expected his attempts has increased but only from 18 last season to 24 this season. Â The next closest is Anthony Davis with 22. At 19, 17 and 17, Kyrie, LeBron and Curry all average less shots per game but they also dish for less assists as well. I am not trying to be biased, but for those guys to not be that far behind in attempts, yet clearly have more viable scoring options on their teams speaks volumes for Russell.
Conclusion:
Russell Westbrook is the truth, no matter if you like his game or not. He may never be as smooth as your Grandfather's favorite, Bob Cousey, or as elegant as your Father's favorite, Magic Johnson. I doubt he ever becomes as safe or poised as Chris Paul, as crafty as Kyrie or as limited as Rondo, but what he is more than most. He should not have to become any of those players, because like others he is great just being himself. To not be a traditional point but, average double digit assists is a true testament to resounding skill and progression.
If Basketball was music, Westbrook would be that gritty maybe even violent rap, while Point Guards are traditionally more Jazz type or orchestra conductor like.~ TayJordan
Westbrook can simply do everything. He has averaged 21 ppg, 5 rebounds and 7 assists for a career. Through 22 games this season, he is averaging a triple double with a stat line of 31 ppg, 10 rebounds and 11 assists. Those numbers make him 2nd in scoring, 2nd in assists and most impressively number 10 in rebounds. At 6 foot 3, he is the shortest player and the only guard to appear in the top 20 in that category. He pulls more boards than DeMarcus Cousins, Kevin Love, Karl Anthony Towns and Blake Griffin, just to name a few.
He ranks 6th all time with 48 triple doubles and at age 28, minus experiencing serious injury or exhaustion, he shows zero sign of slowing down. His attitude is Mamba like and his heart and tenacity cannot be taught. He has single handily evolved his position with his dominance and versatility. A talent like Westbrook does not come around often and I am hopeful that we ALL can appreciate his greatness, while it is actually happening. To not do so, would make you nothing but a close-minded hater in denial or simply someone oblivious to reality.  The latter is quite likely, being that so many basketball fans and evidently, NBA media maintain such poor rationale and lack of a strong basketball IQ, as seen with the disgusting exaggeration and crown placed upon an amazing SHOOTER, by the name of Stephen Curry.
Due to massive, poor basketball understanding and appreciation, I do not doubt that Russ could average a triple double, make the playoffs and still not unanimously be named Most Valuable Player. 2016, basketball is obviously about looking cute, pulling from 40 and syncing it. Excuse me but, I thought the game was about more than one thing. More versatility, more completion, more life. MORE WESTBROOK.
#WHYNOT
~TayJordan, is a writer that loves LeBron James, Russell Westbrook, Hip Hop and Reese Cups. You can find more of her writing on her blog, theblackjuice.com