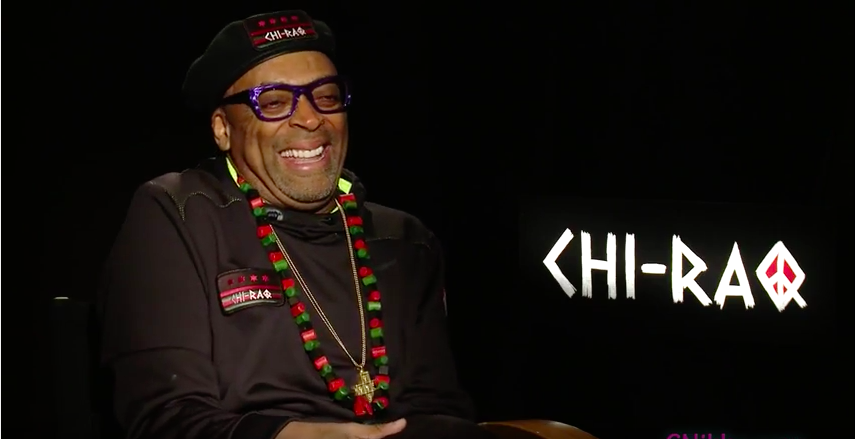 When I first saw the trailer of Chi-Raq unlike most I wasn't skeptical about the film, instead I was pumped and energized. I knew Spike had a message to give, so I started telling everyone I knew about the movie. I told everyone that would listen, but unfortunately everybody around me wasn't as excited and moved about the upcoming release. Just from viewing the trailer many people already labeled it as a terrible description of black people and they falsely accused it as only being about P****! A lot of people were caught up in Spike's hyper sexual content and suggested that he overdosed this time with the "exploitation" of black women. Come on people this is Spike Lee we are talking about. Don't miss the message, for hating on the creativity.
Even the mayor of Chicago had something negative to say. It seems that covering up police brutality is not the only thing Chigago's mayor, Rahm Emanuel does these days. He had the audacity to tell the people that the film was a poor description of the beautiful city of Chicago. 
Turning a deaf ear to the noise and unfair criticism, I decided to go see the movie over the weekend. When I tell you the movie will move you like no other, trust that I am not lying. The raw emotion, the unbearable truth, and the in your face black on black violence is explicit, maybe even uncomfortable but nonetheless it's REAL. Spike delivers a movie that makes you see the truth no matter, if you are ready to see or not or if you want to ignore it or not. After seeing this movie you will have to come face to face with the reality of Black Lives rather you like it or not, because Spike provides a mirror for viewers to self reflect for the two hours that they watch the film and hopefully beyond.
For those who felt that "Chi-Raq" was exploiting black women's sexuality, then I have one thing to say to you. SHUT UP & WAKE UP!!!
Chi-raq even breaks down the history and strength of women by exploring the sex strikes that Leymah Gbowee orchestrated when women leadership and action, influenced the end of the Liberian civil war. Gbowee convinced the women in her country to stop having sex with their men until the men stopped killing each other. So, for all you people who are in an up roar about the sexuality in this film, get a grip of your attitudes and emotions right now. Look beyond the surface and understand that there is a brief history lesson for you in the power of the P**** and for the rest of you who, only understand one language, try listening to that Jay-Z & R.Kelly song P.U.S.S.Y on that "Best of Both Worlds Album." The King of Rap & the King of R&B explains it to you in a more modern way.
Once you get over the amount of times that the cast  say the P word, you will notice the many layers of emotions that you start to feel. The fact that a brother or a sister can lose their life for  tweeting the wrong thing or texting the wrong thing in this modern day of social media shows you how sad our realities are currently. Chi-raq stuffs black on black crime in your face and forces you to ask the question… "What is all the senseless killings all for?"
Even if you don't have any kids, you feel a mother's pain as she cleans the street of her slain's child blood, while on her hands and knees. You feel the fear that shocks our neighborhoods, when just lying in bed minding your own business. You feel the hopelessness that black your feel on the daily basis when they wake up to the madness on the daily basis. You see the trends and the repeated patterns. You understand the cycle that you often like to criticize. CNN frequently documents terrorism abroad but Spike makes you realize the terrorism that shakes up black communities everyday.
But wait there is more, Chi-Raq doesn't stop there. The film is a masterpiece because it sheds light on one of America's deepest and darkest secrets that no one wants to talk about unless you have politicians dishing out false hopes and lies. What is that secret you ask?  THE HOODS OF AMERICA! Chi-raq is so much bigger than Chi-Town and everyone MUST understand this. For everyone criticizing the movie by saying that it is an inaccurate depiction of Chicago then NEWSFLASH! Chi-raq isn't the only murder zone in America. The film is much bigger than the isolation of the windy city, instead Chicago is a city, one of many. Philly, Detroit, LA, Brooklyn, Baltimore, as well as many others and my hometown Cleveland are all Chi-raqs!
Not only does Spike go in, exploring black on black crime but he addresses the elephant in the room, by  shedding light on how America has turned the cold shoulder to black lives in America. He shows you how American government contributes to this madness. Chi-Raq breaks down how America spends million and millions on other countries to create economic growth but has forgotten about their own people, in their own back yard. Chi-Raq explains to you how black people can get approved for an over priced car with no problem but in contrast have difficulty getting approved for a business loan, that would allow one to create a better life for themselves. The movie perfectly illustrates the deep truth of how we as a people, are doing white supremacy's job by killing our own people.
As your emotions start to rise while watching the movie and for those that have been in denial to the truth, I am hopeful that the film invokes a moment of awakening for you. Black on Black crime is a horrible reality but it a reaction to a strategic and broader action. Many of us love to criticize black on black crime as if it's the root. It's not! For those people, please pay attention to the film when Spike is talking about how drugs and guns got into our communities in the first place. In other words analyze critically with a third eye.
Chi-Raq goes even further than that as it takes you to church and yes, I mean church! They bring us to a point that had myself thinking "Wow, this is how church is really suppose to be about." Black Jesus in the back and the preacher speaking on current topics that's going on in the community, forcing the people not to be fake or phony but to really gather as one and come together as one to protect our communities. I literally sat there in the movie theater during John Cusak's scene and I had a few tears coming down my eye. No lie!
Chi-Raq tells you how hard it is for a black person to survive in America. It's all systematic to rid us all. We are witnessing a black genocide really. If its not police killing blacks, then its blacks killing blacks. Nick Cannon said it correctly when he said "People who hurt only know how to hurt."  My question is, what are the people suppose to do? They give us a piss poor education system, they take away our businesses, they throw us in jail for unreasonable periods of time, they don't employ felons, and they remove our hospitals. What do you think people are going to do?
 Fun Fact: (if a young black male is shot in Chicago there is no trauma center to treat them in their own neighborhoods, which forces them to be transported across town, which ultimately leaves them to die.)  So, with all our resources stripped from our communities how are we suppose to overcome and do better?  I'll tell you how. First we have to realize the negative forces against us, realize that they want us to kill each other and take that realism to find the drive and power to do better within ourselves.
Through all the history Chi-Raq hits you with and with all the facts that Spike slaps you in your face with, the one thing that stuck out to me is the character that Nick Cannon plays. I must admit I was surprised with his performance because Nick did a great job in executing his role and he touched on a lot of things that the black male faces while growing up in the hood. There is one scene where he is sitting outside drinking "lean" and smoking weed, where  you can see the stress and mental toll that his life style is having on him, written all over his face. While he is sitting there, intaking his daily "medications" and drugs, one of his homies rolls up in a wheel chair and ask him "what's the point of this life waking up just to get high just to feel numb?" His own homeboy who poses this question to him, was shot and left paralyzed for his own senseless involvement in violence. That scene can't help to make you ask, yourself "for what?"
This film challenges parenting as well. There are so many sons that grow up without the teachings of a father, and many of them grow up to make the same mistakes that their absent fathers did. How many young black male's fathers were lost in the streets or to the prison system and without even meeting our fathers we travel down the same road as them?
At the end of the movie they reveal how Nick Cannon's own father broke one of the old gang codes of killing a child, and without even meeting his father Nick makes the same mistake by killing an innocent child. This scene was symboling, because it breaks down Chi-raq's character in a manner that many can relate to. The truth of  "Like father like son" is relatable to many.
Chi-Raq is the uncut, raw, truth that every black person, every white person, and every person in America needs to see and support. Finally a film necessary for those in the trap and those in the in office. It's a lesson for everyone, from all walks of life in this film. The entire film provides a very realistic and unfortunate glimpse into the life's of so many people's lives in Chi-raq's around the country. If this makes you uncomfortable then perhaps we should all take it as a challenge to do what we can to clean up the current realities across America. The film is less about p**** and more about reality. Rather or not you agree with the secondary topic is irrelevant. Don't miss the story because you don't like the colors of the cover or the name of the title. Don't let Spike's flawed masterpiece go to waste. It's beauty in it's flaws, if only you dig deeper.
Black people need to wake up and realize that even if you are one of the ones that "made it" and living well, your people are still suffering. The movie reminded me of a quote I just read the other day.  "Its no longer about getting out the hood but, saving the hood." –unknown.
Black people need to get up and support Chi-Raq. Spike was right on the money, 26 years ago with Do The Right Thing, as that film proved it's timeliness and relevance with Eric Gardner in 2014. Not losing a beat, Spike has his hand accurately on the pulse of Black America and white supremacy, with Chi-raq. Like Spike Lee's classic movie, School Daze said, black people need to WAKE UP!!!! 
~Â Julius K. Ponder Jr