You saw him stand up for justice and racial equality on the MTV 2017 Video Music Awards. He used the platform to stand in solidarity with the mother of Heather Heyer, and cosign the Black Lives Matter movement. He is a descendent of Confederate General, Robert E. Lee, who's monument stood at the center of controversy due to its vote to be removed and the horrific happenings in Charlottesville. His name is Robert W. Lee.
"I call on all of us with privilege and power to confront racism and white supremacy head-on" – Robert Lee IV #VMAs pic.twitter.com/ko4SM9VnaU

— MTV (@MTV) August 28, 2017
Lee is a "woke," white millennial with a namesake tied to the confederates. He is the fourth great nephew of Robert E. Lee, but he proves to be nothing like his uncle, as he displays what has come to be an unpopular opinion on race relations from a white lens. His willingness and commitment to denounce white supremacy, racism and racial injustice led him to be be heavily opposed by members of his own congregation and clergy. Lee was pastor at Bethany United Church of Christ in Winston-Salem, until announcing his resignation from his post due to the backlash that he received from saying what was right.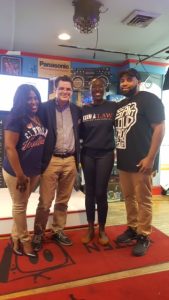 Lee is certainly a racial ally and advocate that is ensuring himself to be on the correct side of history, with his intentional decision to speak out against racism. His advocacy on race relations is welcomed at TNGS and we were excited to have him join us for an extended conversation.
Check out the interesting and thought provoking things that he had to say on The Nitty Gritty Show during an episode of our #ImportantTalks series.
Please help us continue this conversation by sharing this article, and video, commenting your thoughts and tweeting us at @tbj_nittygritty. We are interested in what YOU have to say. Also be sure to SUBSCRIBE to our YouTube Channel to check out past episode here.
#TheNittyGritty
#ImportantTalks
~TayJordan