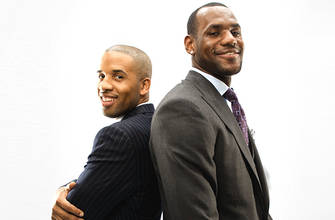 Warner Bros. and Turner Sports recently announced a $15.8 million investment in what is slated to become yet another lucrative part of LeBron James' superstar legacy. His multimedia platform for athletes, called Uninterrupted, will benefit from the investment, allowing the platform to expand content across all platforms though go90, a new mobile application.
"The best thing about Uninterrupted is there are so many creative opportunities for athletes to tell their stories," James said in the news release. "I'm excited to be partnering with important, innovative companies like Warner Brothers and Turner to keep building Uninterrupted as a place for athletes to go to connect with fans and share their stories in a different way."Uninterrupted began as a series of testimonials created and produced by James' SpringHill Entertainment production company, run by longtime business partner Maverick Carter, and is still currently hosted on Turner Sports' Bleacher Report Website.Sports figures across genres upload videos, usually a minute or two long and filmed by themselves, to disclose something about their lives or other subjects that interest them. James, along with Draymond Green of the Golden State Warriors and Ultimate Fighting Championship (UFC) star Ronda Rousey are frequent posters.
Really proud what the team is going to build with our new amazing partners https://t.co/LWc6gl7qRR #StriveForGreatness @uninterrupted #WB

— LeBron James (@KingJames) December 2, 2015
Announcement of the deal also included that Jamal Henderson, who previously led some of PepsiCo's integrated marketing and brand development strategies, will serve as president of the platform. Other hires include Yelp veteran Matthew Trunzo as the head of business development; Amber Mayo, former director of media and partnerships at Samsung Telecommunications America, as head of marketing; and NBA writer and former Staance product manager, Jimmy Spencer, as head of content. The new investment appears to be a sound one, as it will allow LeBron and his partners to actively compete with other brands benefiting from the millions of consumers consuming web and app videos. Smartphone penetration among African Americans is 81%, according to recent research, and black consumers spend close to 56 hours using apps or mobile Internet browsers on their smartphones and about two and a half hours watching videos on their smartphones.
Source: $15.8 Million: LeBron James Lands Deal for Entertainment Studio