It's November 2015 and Kendrick Lamar's album to Pimp a Butterfly is the center of discussion, in Hip Hop 8 months after it's release. A "Hip Hop writer" or "Blogger" or whatever you want to call him penned an article full of senseless criticism earlier this month about K.Dot's latest release. What made him bring up such criticism 8 months later, beats me but I want to talk about that and all the black folks that seem to agree. I am so full of emotion and disappointment with the Hip Hop community and young black people, that I do not even know where to begin to start.
First let me talk about TPAB showcasing what is referred to as "overwhelmingly blackness." What the hell does that even mean? When you are used to soda and nuggets or Hamburger Helper, a filet mignon offering will probably be taken for granted or sadly even under appreciated and rejected. The current state of Hip Hop, minus a limited few, offers plenty of fattening and unhealthy options, while the nutritious and healthy content is harshly and unfairly criticized. Now I get it, music is subjective and everyone's taste varies but damn if you are going to criticize something, at least make sense while doing it. Otherwise you are doing nothing more than talking out of the side of your neck and making a fool of yourself.
Drake and Future, though I respect those artists and their "started from the bottom" stories, they clearly have black people in a mental trap and a maze of confusion. None of you need to be screwing up some comma's, none of you really are the plug for anything, so stop it. I get it, everyone wants to turn up, flex and feel good, who wouldn't? Artists like Fetty Wap, Future, Drake, Young Thug (ok maybe not Young Thug) and countless others routinely provide that, "I ain't trying to think right now" content and that's what's appreciated and celebrated. It's light, it sounds good in the whip, even better at the club. Perhaps even providing an escape from the harsh realities of "I can't breath," "Hands up don't shoot," or #blacklivesmatter and the other other unfortunate but familiar truths to all of black America.
To Pimp a Butterfly is different, much different. It's not for radio, it's wasn't made with monetary motives, its not the label's preference. It actually was Kendrick's attempt to reach his brothers and sisters but we as a people let his message fall on deaf ears. I mean I don't even know how Kendrick got Interscope and good ol buddy, Jimmy Iovine to release such content. This album is full of complexities, dualities, conflicts, inconsistencies, and perspectives. K. Dot's expresses deep storytelling over unconventional beats as he guides his listeners into his most inner and deeper thoughts. An artist of his magnitude haven't delivered such a revolutionary album since the great, Tupac Shakur. On songs like Momma, Institutionalized, and I, he delves deep into black plight but also black excellence and understanding. He loses himself, while attempting to find himself, in hopes that we too find ourselves. He reveals his internal conflicts, and puts them on display for us all to deconstruct as it relates to our own personal bigger pictures. TPAB was a wake up call, that went unanswered by masses. If the album's reviews show's us anything it shows us how mentally stagnant and immobile we are in Black America. They say the truth will set you free, but clearly the truth is too real and uncomfortable to stomach for many. We don't know what to do with it, so we bash it. Often times we don't have to wait for White America to do that, because we do it to ourselves.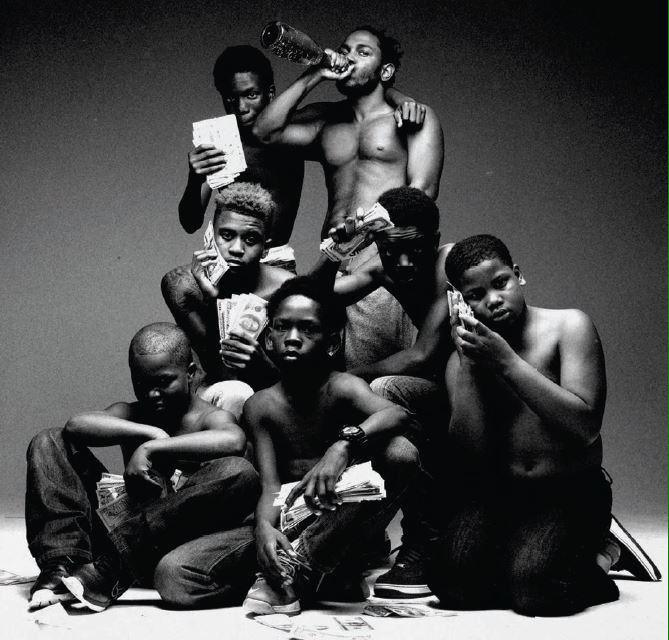 Kendrick expresses high emotions and resentment on the Tupacesque track, The Blacker the Berry. On this track he bodies the beat start to finish, while revealing an exhaustion and discontent that many black youths from inner cities across America can relate to.
You hate me don't you?
You hate my people, your plan is to terminate my culture
You're f****** evil I want you to recognize that I'm a proud monkey
You vandalize my perception but can't take style from me~ Kendrick Lamar on The Blacker the Berry

I am so flabbergasted at the intense disapproval of this album, I may just not talk Hip Hop with anyone for the rest of the year. Did you hear what Kendrick rapped on Hood Politics? Did the metaphors and double meanings on this album go over your head? In this microwavable society and generation, K Dot may have intellectually outreached a lot of rap audiences. No shade intended. The funk influences on the production threw many listeners off but are your ears that accustomed to heavy bass lines from Metro Boomin, and kick drums from DJ Mustard, that you missed the substance within his bars? That's unfortunate. "Do you fools listen to music or do you just skim through it?" 
Kendrick offers complex, intricately written and brutally honest bars on the whole album, as he attempts to resonate with the inner depths of black america, by attacking the inner fabric of not only our realities and mentalities but also those of America at large . This album was a packaged signed, sealed and delivered piece of art and social commentary, that was left unanswered because no one answered the door and now 8 months later it's being returned to sender because the addressee couldn't handle the contents of the package. That is profoundly disappointing and upsetting. If a non-black person criticizes it, ok that's fair. Maybe it's a lot to take in. The truth hurts, especially when it questions your privilege. You know how that goes. Like the great Nas once said, "People fear what they don't understand, hate what they can't conquer, guess it's just the theory of man."
But back to black america. Shame on you for not realizing this album's place in history and Kendrick's genius. Kendrick's no Mandela, Malcolm or Martin but he certainly has rhymed his way into a place of significant influence and TPAB was his platform to reach the world. How did he get here? Section 80 was his pre-commercial success, but since then theres been numerous features, accolades, Billboard charts and awards. History shows that he was supposed to change his flow and his content. I mean TPAB is not what an artist of Kendrick's magnitude is supposed to release. It's harsh, it's witty, it's radio unfriendly, it's empowering, it's violent, it's angry, it's dense. It's simply not happy. It's a perfect illustration of everything that's wrong, but on songs like Complexion and I, Kendrick offers solutions and self remedies that we as black people can exert. Some how, some way we missed that.
The fact that Kendrick released such an album at such a paramount point in his career is commendable and unusual. Many artists come out spitting realness, then they achieve commercial success and we never hear the real from them again. We all have seen it happen to the best of them. Kanye started off with "All Falls Down" and "Jesus Walks," then Kim K came into the picture and he ain't rapped the same since. Drake came out the gate with, So Far Gone but now he raps about his Hotline Bling. Jigga said,
"If skills sold truth be told/ I'd probably be/ lyrically Talib Kweli/ Truthfully I wanna rhyme like Common Sense/but I did 5 mill/ I ain't been rhymin like common since.~ Jay-z
Now I am not here to call any of them sell outs, that's beyond the point. The point is that we should be congratulating Kendrick Lamar and embracing this generation's seed of Tupac Shakur. Either we are all sleep and would like to remain that way or the the fear of embracing such powerful and influential truth is overwhelmingly strong. It's 2017 and black America is still shook. Many of us would rather live in ignorant bliss instead of unapologetically embracing an artist that puts everything on the line to challenge our mental processes and uplift the way we view ourselves and the way we align ourselves in this country. To Pimp a Butterfly evokes a deeper understanding of things around us. K.Dot probably was thinking that many could relate but obviously that many is actually just some.
As you may be at work in your comfortable corner office, or serving as the current token at your PWI, or driving around in your new Mercedes Benz that you will be paying on for the next 10 years, just please sit back and reevaluate your mental and ask yourself how much a dollar cost? If you love Hip Hop, ask yourself what you love about it. Is it the beats and swag or is it the true essence and substance? Many of us often complain about the lack of lyrical content and the lack of realness in music but when an artist pours his heart and soul into this Hip Hop thing, we condemn him and call his efforts "overwhelmingly black." Newsflash, perhaps your are underwhelming black and that is where the real problem lies. The problem is not with Kendrick Lamar, and his production selections, or his choosing to work with other black legends such as George Clinton and Ronald Isley. The problem is the lack of consciousness by black America. It's one thing for you to want the truth and not get it but it's another thing for you to receive the truth but close your ears and turn on Rich Homie Quan for an immediate high. How counter productive and self destructive is that?
Make a new list, of everything you thought was progress
And that was bull***, I mean your life is full of turmoil
You spoiled by fantasies of who you are
I feel bad for you
I can attempt to enlighten you without frightenin' you
If you resist, I'll back off go catch a flight or two~ Kendrick Lamar on Momma
You got lost in the illusion and fantasy of foreign whips, champagne sippin, G5 flights, big booty thots and racks, that you now seem to be unmoved by reality. In reality Black America is in trouble, considering the daily occurrences of police brutalities and murders on unarmed civilians. Ferguson and the Mizzou protest shows us, how racially divided we are as a nation, Sandra Bland showed us how vulnerable black women are in this country and the black criticism from black hip hop fans shows us how unprepared and resistant we are to an artist such as Kendrick Lamar. We clearly prefer him on his ASAP Rocky features, anything mentally stimulating will kill our vibe.
If these walls could talk, they will tell you how ridiculous your mentality is. Go get K. Dot's new album, DAMN.
Be sure to check out the Nitty Gritty Show on Youtube
~TayJordan